RK pipe and drape system is a great way to make an exhibit booth, photo booth, hall backdrop, wedding canopy, room divider etc. Pipe and drape system consists of base plates and adjustable upright and telescopic crossbar.
Why the pipe and drapes are so popular for different event.There are some reasons. Firstly, it's light weight and completely portable. Second, easy to move from venue to venue,not for permanent construction. Thirdly, quick to set-up and simple take down when finished.
The exhibit booth including single booth, in line booth, back to back booth. It can be separate to single booth, connected on side to in line booth, or connected by back wall to back to back booth. We provide standard trade show booth, which is 8 ft tall on back, 3 ft high on side, 10 ft wide. Also different length are available upon your request. Available height can be from 3 ft to 26 ft, 3ft to 13 ft wide.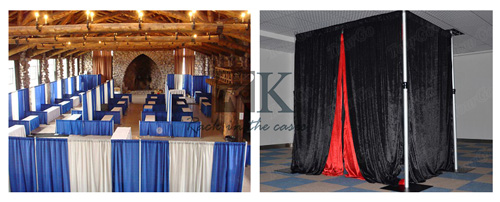 The photo booth are combined with 4 pieces base plates, 4 pieces upright, 5 pieces drape support, 20 panels velour drapes. We have standard size of photo booth, 6ft*6ft room or 10 ft×10 ft room. Also different size are available upon your request, custom size are welcomed.
Hall backdrop are widely used for wedding party events. Uprights are available from 5 ft to 26 ft high and Crossbars from 3 ft to 16 ft wide. And different size and thickness base plates to match the pipes. Each upright has four slots on top so that the crossbars can also be connected to them at a right angle. In this way, the pipes can connect to each other to adapt the required length. Different drapes are available for different venue, chiffon, ice silk, velour, velvet, star curtain are hot sale.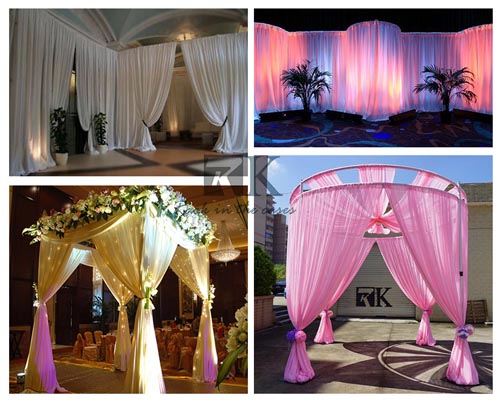 The pipe and drapes can transform into lots of styles for the wedding canopy. Different designs are available, like square, round, cage, with roof at your like. 10 ft×10 ft and 12 ft×12 ft are hot sale for wedding canopy, also you can decide the size as your venue. Available height can be from 5 ft to 23 ft, width can be from 3 ft to 16 ft. If you have special design, we will try to meet your required.
Please feel free to contact us for more information.
Our website: http://www.pipedrapesystems.com/
Contact person: Rachel Wang
Mob/Whatsapp:+8613246689494
Email: sales05@pipedrapesystems.com
Skype: sd80012
Facebook:https://www.facebook.com/Rachel.Wang.RK