Hey, guys, do you looking for pipe and drape decoration for your coming events? If yes, RK will be your best events equipment supplier, include pipe and drape, dance floor (wooden, LED/RGB), portable stage, LED/RGB Curtains, truss,flight cases... Apart from providing the top quality products, we also have professional designer and sales team to support you.
Refers to aluminum pipe, it is fixed or adjustable telescoping vertical uprights supported by a weighted steel base, and adjustable telescopic or fixed horizontals that provide a drape support frame with removable drape panels. Pipe and Drape is used to divide, hide, and/or decorate a space temporarily.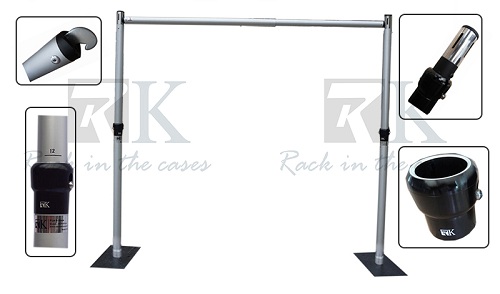 Pipe and drape is a great way of adding colour to what would normally be a relatively plain backdrop.It is used frequently with home staging, weddings, fashion shows, concerts, exhibition booth, photo booth, interior design, and in the theatre and on-set on television programs and movies.About the drapes, if you need it for wedding or party decoration, generally we recommend the chiffon and ice silk we will be better, it makes your events be more beautiful and elegant. If you require more thick blackout 65%-100%, the velour and velvet will be better.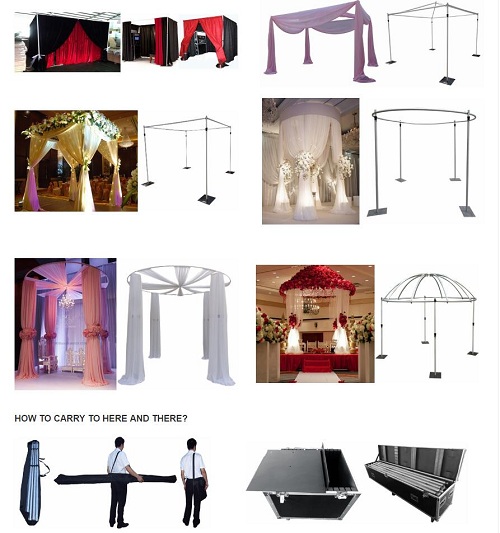 All of our Pipe and Drape Kits hot sell size as the Following:
RK Popular pipe stand dimensions
Adjustable Upright
Telescopic Crossbar
Base plate
6'-10' (1.8m-3.0m)
6'-10' (1.8m-3.0m)
18" × 18" × 3/16"(450×450×5mm)
7'-12' (2.1m-3.6m)
7'-12' (2.1m-3.6m)
24" × 24" × 3/16" (600×600×5mm)
8'-14' (2.4m-4.2m)
8'-14' (2.4m-4.2m)
18" × 18" × 3/8" (450×450×10mm)
7' - 17' (2.1m-5.2m)
9' - 16' (2.7m-4.8m)
24" × 24" × 3/8" (600×600×10mm)
8' - 20' (2.4m-6.0m)
---
---
To get a quote or if you want to know more about the wedding pipe and drapes backdrop, led star curtain, feel free to contact with us at any time, let me know the size and quantity you required, we are sure any of your inquiry will get prompt reply.
Contact: Lemon Lin
Skype: rksales1201
Whats App: +86-17875502260
Email: sales1201@raykglobal.com