Pipe and drape is an item that we install due to complexity. It's easy to set up and take down, and widely used in wedding party event decoration.
Pipe and drape kits are perfect for any events, parties or weddings. Divide rooms, cover up walls, hide objects or add class and elegance.
Pipe and drapes, or simply fabric separators, consist of a steel base, pipes and fabric draped on, and the impact is amazing.Whether you cover a wall, decorate the hall backdrop, have a ceiling draping, or surround the entire room, or divide the room into parts, pipe and drape brings an elegance and uniqueness to your event that nothing else can.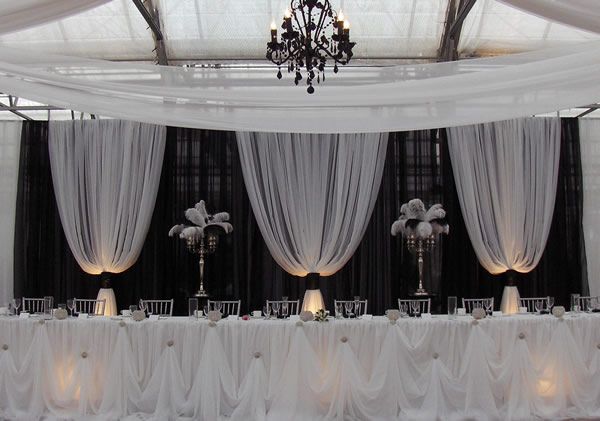 We provide multiple heights for uprights and multiple width for cross bar, multiple size and weight for base plate, and multiple types for drapes.
Available height for adjustable upright
2-piece pipe

3 ft-5 ft, 4 ft-7 ft, 5 ft-8 ft, 6 ft-10 ft, 7 ft-12 ft, 8 ft-14 ft, 9 ft-16 ft, 10 ft-18 ft,
11 ft-20 ft, 12 ft-22 ft.

3-Piece pipe
5 ft-11 ft, 6 ft-14 ft, 7 ft-17 ft, 8 ft-20 ft, 9 ft-23 ft.
Available width for telescopic crossbar
telescopic crossbar
2 ft-3 ft, 3 ft-5 ft, 4 ft-7 ft, 5 ft-8 ft, 6ft-10 ft, 7 ft-12 ft, 8 ft-14 ft, 9 ft-16 ft.
Fixed crossbar
6 ft, 8 ft, 10 ft.
Available size for base plate
18" × 18" × 3/16", 24" × 24" × 3/16", 18" × 18" × 3/8", 24" × 24" × 3/8", 20" × 20" × 3/16", 20" × 20" × 3/8".
Available types for drapes
Standard chiffon, pearl chiffon, ice silk, crepe chiffon, normal BANJO cloth, Standard BANJO cloth, Satin drapes, classic velour, normal Velvet, middle velvet, high velvet, luxury velvet, etc.
As the packing, standard packing is carton.We are also specialized in the flight case, if you are an event company, we strongly recommend the flight case to you.The flight case is going to protect the pipes from damage, make it is easy to move around and transit to other event places.
Please feel free to contact us for more details.
Our website: http://www.pipedrapesystems.com/
Contact person: Rachel Wang
Mob/Whatsapp:+86 13246689494
Email: sales05@pipedrapesystems.com
Skype: sd80012
Facebook: https://www.facebook.com/Rachel.Wang.RK