The dance floor is widely used for wedding or other event, people like dancing to express themselves.
What determining the size of your dance floor? It's usually about 33-50% of your guests will dance at any given time. That being said, you know your guests best, what kind of people they are. Which crowd is like to dance the night away, if the others are more enjoy to have conversation. After confirm the dance people, you can choose the perfect size of the dance floor. Also the size the dance floor's size will depend on your venue. Of course, if it is for outdoor venue, don't worry about it.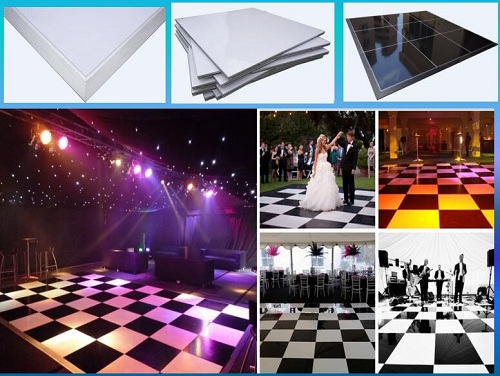 We provide the plywood dance floor, PVC plastic dance floor, LED dance floor, RGB pixel dance floor. The plywood dance floor with high bearing load, the surface is glossy finish, which is no-slip and waterproof. The plywood hole less dance floor is admired by many customer, the interlocking design of the panels ensures a smooth flat surface with no concerns of panels separating. The PVC dance floor is light weight, easy to set up, widely for marquee event. The PVC dance floor is waterproof, so it's widely used for outdoor event. Also the cost is less than the plywood dance floor, it's the most economic dance floor. The LED dance floor is widely for wedding event to make the environment surround by white lights. The LED dance floor requires power supply and there is a remote controller to change the models. You can choose single lights or mixed lights. But single white is chosen by most customers. The RGB pixel dance floor is popular on the market nowadays, it is programmable to make patterns, the LED effects also have included in. There are more than 30 different program effects, can be programmed to put more than 70 kinds of different effects. All the dance floor will be edged with aluminum ramp to protect the flooring panels.
Please feel free to contact us for more information.
Our website: http://www.pipedrapesystems.com/
Contact person: Rachel Wang
Mob/Whatsapp: +8613246689494
Email: sales05@pipedrapesystems.com
Skype: sd80012
Facebook: https://www.facebook.com/Rachel.Wang.RK