Everyone wants to have an memorable wedding ceremony. I am not exception.I think that is everyone dream. The problem is how should we realize our dream? I can answer this problem. RK can assist you with. You only need to tell them what you need and the size, that is ok.RK team will do everything for you.
For the wedding pipe and drape, there are so many adjustable size for your reference. For the upright, the size 3ft-24ft is available. For the crossbar, the size 2ft-20ft is available. So please don't worry the size, we can satisfy your requirement. As for the shape of the pipe and drape. There are round, square and with colorful chiffon backdrop. No matter pipe and drape you want. As long as we can do it for you, we will do our best to manufacture for you. What you need to do now is pick up your phone and call us. We promise you a romantic wedding.
For the wedding LED star curtain, RK has two type of the star curtain, includes the LED star curtain and the RGB curtain. A full sets of the LED star curtain compose of the the LED lights, curtain and the DMX controller. For the controller, it will cover 50m² curtain area. You need to calculate the dimension of the space (Width×High) you would like to cover before you purchasing the LED star curtian. But do not worry, we have the standard size of the LED star curtain, in addition, we also accept the custom order. The size of the LED star curtain from RK can be customized freedom.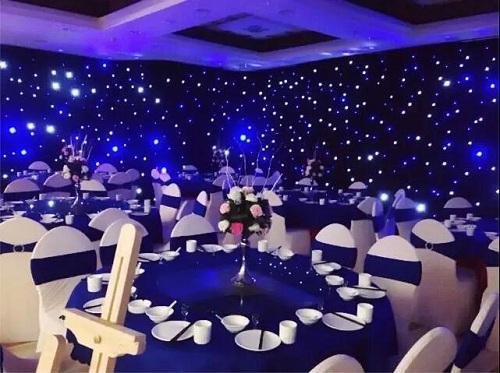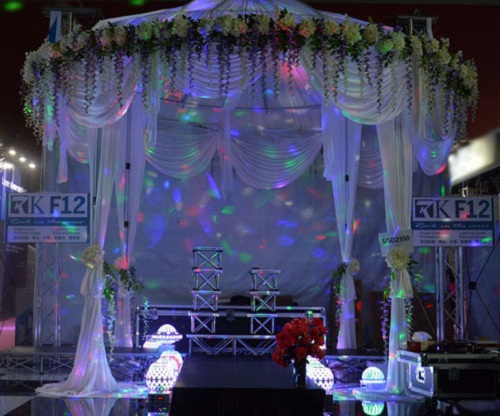 For the event company, the LED star curtain and wedding pipe and drape are so popular, they are used to the wedding decoration, the concert, the bar, the club and so on. So beautiful so nice so cool.Certainly, there are so many weddings held in the different countries all over the world every year. 98% of people choose decorations to decorate their wedding,among them, there are 68% of people choose LED star curtain or pipe and drape to decorate their wedding in order to leave a good memory for each other. So, please do not wait, choose the LED star curtain or pipe and drape to decorate your wedding.
Vinda Liang
Whatsapp: +86 13163775605
Email: sales03c@raykglobal.com