PORTABLE STAGE SYSTEM





Portable stage

are the perfect stage for any occasion or event. Portable staging can be used for a variety of purposes, such as holiday celebrations, graduations, music performances and plays. Commercial portable staging can be prohibitively expensive to purchase for smaller performance groups, but by using RK portable stage you can build your own portable staging that will hold up for many performances.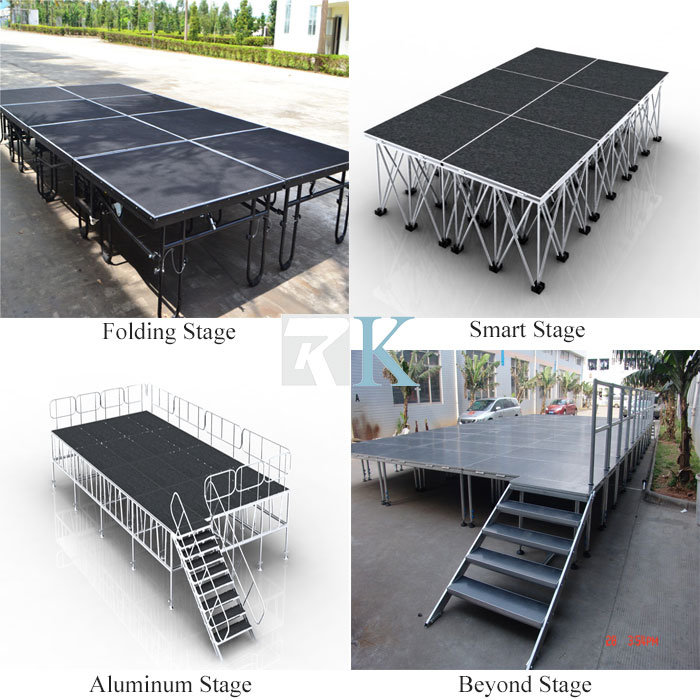 About Portable Stage
1. Design for the outdoor & indoor events, shows, conference, competition, exhibition, auto show, carnival and so on.
2. Heavy-duty capacity, sturdy and strong to set up and remove, Convenient transportation and save time, Smooth running, reduce vibration.
3. The color and stage size can be changed.
4. It is very popular use in project, match with lighting truss, stage truss, spigot truss
5. Surface of plywood is non-slip, carpet, rubber, paint.

RK portable stage platform:

1. Load bearing: up to 185 lbs./ sq.ft (1000kg/sq.m)
2. Shape: square/ triangle/ quarter round/ step platforms
3. 30mm thickness high quality plywood with carpet/ tuffcoat/ industrial finish
4. Industrial is the traditional material for stage. It could be used indoor & outdoor.
Introduct of RK stage system:
Smart Stage