Our company Rack in the cases, has been specialized in the stage for many years, north American, Europe, African are our main market. We do provide four types stage, smart stage, beyond stage, aluminum stage, folding stage. Let me introduce our smart and beyond stage briefly to you this time.
Firstly,
the portable smart stage
.The smart stages are the ultimate in portability and convenience. Consisting of modular, lightweight platforms and folding risers that can be combined to create custom size stages in various heights and configurations. The smart stage system is quick and simple to assemble and the pieces are light enough to be handled by one person. Although the system is extremely light, it does not compromise on strength. The weight capability of smart stage is rated to 750 kg/sq/ metre. The smart stage are widely used for inside event, also outside event but flat ground. Rk's smart stage can be used as choral stage, seat system, magic stage and glass stage for fashion show. These stage come in sections, and when you connect them you can easily create a temporary stage that fits the requirements of your function. You can add skirt for the stage to hide the risers and structure.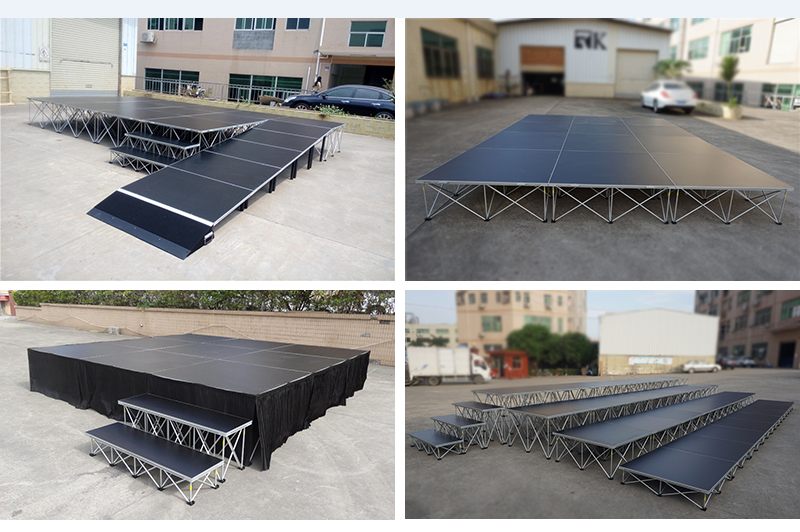 Second,
the beyond stage
,also named
four legs stage
.High bearing and adjustable height are the advantage of the beyond stage. To top it off, each beyond stage platform set can bear up to 185 lbs. per sq. foot (900 kg/sq. meter) and comes standard with a industrial material finish. Each stage platform come with four adjustable legs. The adjustable legs qualified with cardan base for uneven ground. The beyond stage are widely used in outside big event, for special event show. The sizes of beyond stage platform are 4ft*4ft,4ft*8ft,1m*1m and 1m*2m.If your stage's height has over 1.0 m high, we recommend the guard rail at the three side. The muti steps stair can match different height. The beyond stage's legs are adjustable, the height of the beyond stage,0.4 m~0.6 m,0.6 m~1.0 m,0.7 m~1.2 m,0.8 m~1.4 m. For the beyond stage, you also can add skirt to hide the legs to make the stage more perfect.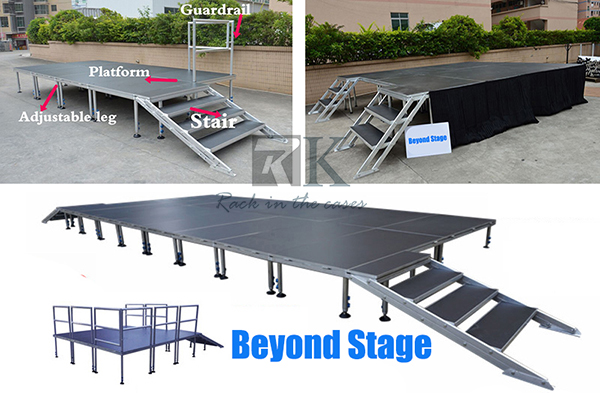 In a words, not matter the inside or outside event, RK can provide the stage meet your requirement, we has been specialized in this field for many years. Next time, i will introduce our aluminum and folding stage to you.
Please feel free to contact us for more information.
Our website:
http://www.pipedrapesystems.com/
Contact information as below:
Skype: sd80012
Mob/Whatsapp:+8613246689494
Email:sales05@pipedrapesystems.com
Facebook:https://www.facebook.com/Rachel.Wang.RK