Used pipe and drape backdrops, trade show booths, and portable photo booths are our specialties! We supply hotels, conference centers, schools, trade shows, churches, party rental stores, and many other businesses with our complete pipe and drape packages and kits, as well as parts and accessories for existing displays.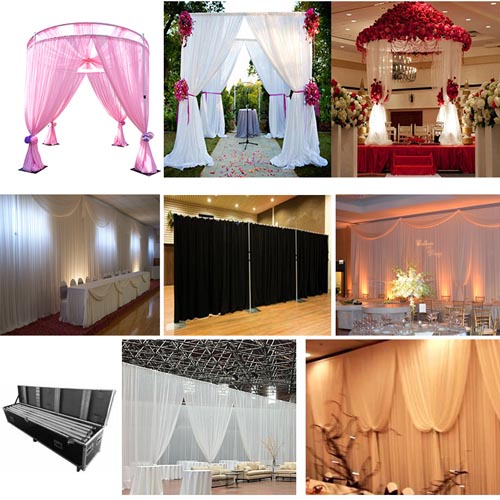 used pipe and drape specifications:
Commodity name
Top quality used pipe and drape for sale backdrop pipe and drape for wedding
Material
Upright and crossbar are made of Aluminum alloy, base is made of Steel
Upright -2 sections
3'-5', 4'-7', 5'-8', 6'-10', 7'-12', 8'-14', 9'-16',
10'-18', 11'-20', 12'-22', 13'-24', 14'-26'
Upright -3 sections
5'-11', 6'-14', 7'-17', 8'-20', 9'-23'
Crossbar
2'-3', 3'-5', 4'-7', 5'-8', 6'-10', 7'-12', 8'-14', 9'-16'
Base with spigot
300×300×5mm; 420×400×5mm; 450×450×5mm; 509×509×5mm;
500×500×8mm; 457×457×10mm; 420×420×12mm
Drapes
Can be customized, material is velour and velvet and so on
Package
Flight cases, handbag, standard carton
Accessories
Pin & screw, hex key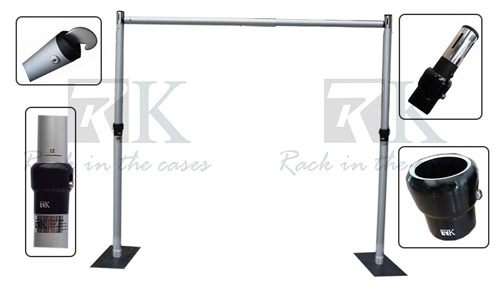 Our RK used pipe and drape make everything simple and romantic. Consisting of only steel bases, aluminum pipes, and fabric, setting up a pipe and drape display requires no special skills. You end up with a temporary structure that is completely portable... ready to move to the next room, or even the next state, whenever its needed.
Once any interest in our pipe drape stands, kindly feel free to get in touch with Cindy Gui. Your contact is always welcomed! Below is my contact details:
Email: sales06@pipedrapesystems.com
WhatsApp: +8613534064248
Mobile: +8613534064248
skype: rackcase1