RK's pipe and drape can the hall backdrop and wedding tent as you like. The pipe and drape system including the upright, crossbar, base plate and drapes. The aluminum frame hold the drapes, then decorate the event backdrop, make the venue more elegant.
RK's portable heavy duty backdrop support kit is highly durable, extremely stable, and easy to install.The portable light weight backdrop stand kit is perfect to set up anywhere and any time. This portable backdrop kit can efficiently be used for both small and large groups, indoor and outdoor event, the width and height are adjustable.
The wedding tents are also made up by the pipe and drapes system. We do have the square tent, single and double round tent, roof tent, cage tent etc. Also the height is adjustable, from 5 ft to 23 ft, 10 ft and 12 ft are hot sale size. As the width, our crossbar's length from 3 ft to 16 ft, also 10 ft and 12 ft are popular on the market.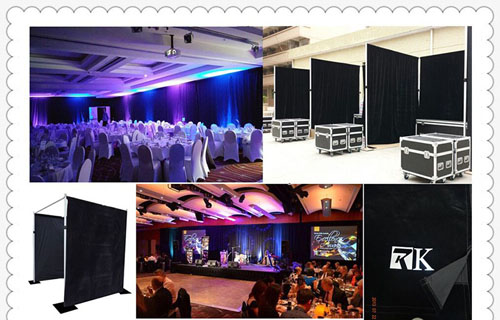 We provide kinds of event drapes for your choose. We do have the normal chiffon, Pearl chiffon, Crepe Chiffon, velour, velvet, star curtain, banjo, ice silk, Satin etc. Recently, the star curtain has became popular on the market, which is widely used on the wedding or others important event to decorate the backdrop. If you don't want the lights, you can turn off the lights, used as normal velvet backdrop. White and black star curtain at your like.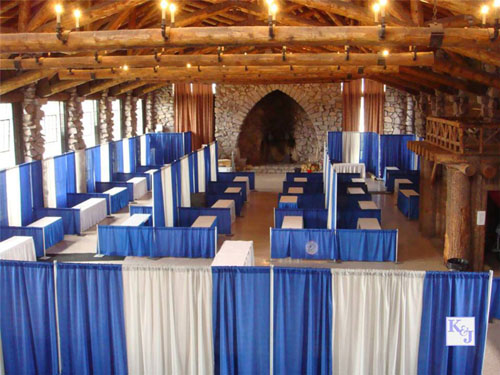 The pipe and drapes also can be the trade show booth.Three normal booth, single booth, in line booth, back to back booth. Standard length or custom design are welcomed. The regular height is 8 ft high, 6 ft to 10 ft wide. Normally, it's Banjo Drape Panels for the booth, but other customer prefer the velvet drapes, which is black out and flame resistant. Also the velour drapes are also good choice, the price is more reasonable than velvet, little shinny on the surface, but more thin.
Please feel free to contact us for more information.
Our website: http://www.pipedrapesystems.com/
Contact person: Rachel Wang
Mob/Whatsapp: +8613246689494
Email: sales05@pipedrapesystems.com
Skype: sd80012
Facebook: https://www.facebook.com/Rachel.Wang.RK