Stage is widely used in a variety of application, such as weddings, holiday celebrations, graduations, schools, churches, corporate events, hotels, shopping malls, music performances, concert, speech, chorus, fashion show and other special event.
Besides normal square and rectangle shape, round stage and other customized shape stage now is high welcomed. With more than 10 year experience in event industry, we have a powerful ability to do customized style. Today will share you 3 styles of our customized round stage.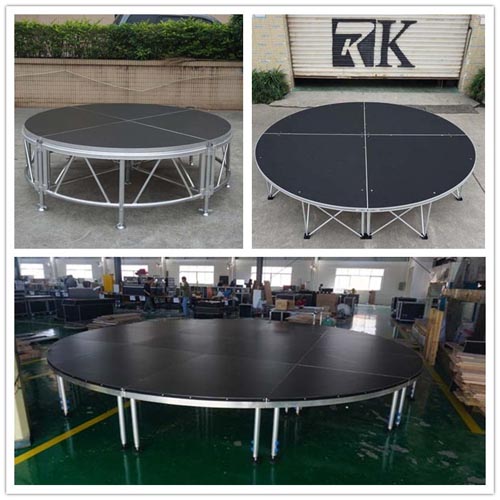 Round aluminum stage
Aluminum stage is our top selling style stage, with client's demand, we also do many customized project. Round style is one of it. It consist of platform, brace, adjustable legs and base.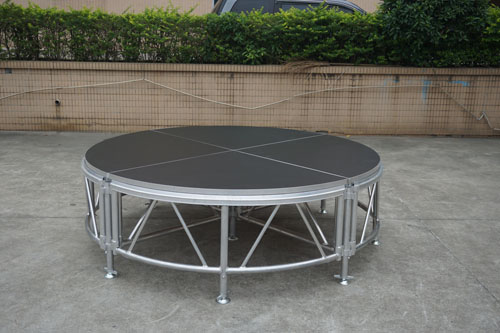 Round Beyond stage
It consist of Stage platform (many sizes available), adjustable or fixed height legs. Compared with aluminum stage, it is easier and quicker to install.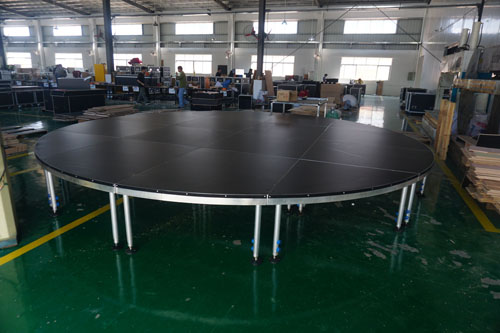 Round Smart stage
It consist of stage platform and risers. Compared with the above 2 style stage, smart stage is more easier to install.
Below is some difference between the 3 styles stage
RK Stage Details
Itens
Surface Finished
Thickness
Unit panel size information
Hot Height available
Legs adjustable or not
Smart Stage
Carpet finish
Industrial material
Tuffcoat finish
Glass finished
Board thickness: 18mm
With Aluminum
frame: 30mm
3ft×3ft
4ft×4ft
1m×1m
1m×2m
10cm
20cm
40cm
60cm
80cm
100cm
No
Beyond Stage
Board thickness: 18mm
With Aluminum
frame: 85mm
1m×1m
1m×2m
4ft×4ft
4ft×8ft
30-50cm
40-60cm
50-80cm
60-100cm
70-120cm
80-140cm
90-160cm
100-180cm
110-200cm
Yes
Aluminum Stage
Board thickness: 18mm
With Aluminum
frame: 60mm
0.4-0.6m
0.6-1.0m
1.0-1.5m
1.5-2.0m
Yes
For the 3 style stage, though the thickness is different, the quality are very good, even the smart stage the bearing capacity is more than 750kg/square meters, and the beyond stage and aluminum can be a high as 900kg/square meters.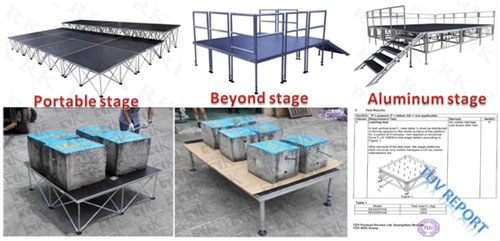 And for the package, normally free carton package, and you can also choose trolley or flight cases, and you need to pay extra for them.
Once you are also interested in our round stage and need more details and want to get a quote, kindly feel free to contact me whenever. I will help you with our good quality, best service and provide you with professional advice. Below are my contact details, your contact is always welcomed!
Email: sales06@pipedrapesystems.com
Whats App: +86-13534064248
Mobile: +86-13534064248
Skype: rackcase1