Take your performances to the next level with our EASY, MODULAR, AFFORDABLE portable stage System, welcome to contact us. We are a factory specially manufacture pipe and drape, portable stage, dance floor, truss in China. Get back to the portable stage, we have four stage types for you choice, smart stage, beyond stage, aluminum stage, folding stage. More details of our stage as below:
1) Smart stage:
One of the lightest and easy install stage, widely used for indoor events, base on this type, we also have two different option, the first one is RK 1st Generation Smart Stage , it's thickness 30 mm, used hex key to connect two dance floor. Another is 2nd Generation Smart Stage, it is 18mm thickness. Both installation is different.
Material: plywood + aluminum riser
Platform size: 1m × 1m,1m × 2m, 1.22m × 1.22m
Riser height: 20cm, 40cm, 60cm, 80cm, etc.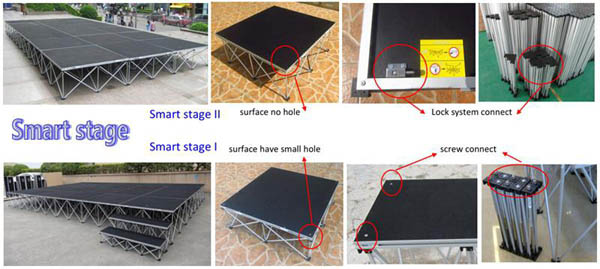 2) Beyond stage (Four legs stage)
Nowadays, more and more clients like this stage, because it is adjustable and easy to install, suitable for indoor or outdoor activity, the frame is 85mm thickness. Below platform and leg size for your reference:
Material: 18mm stage platform + aluminum riser
Platform size:1m × 1m ,1m × 2m, 1.22m × 1.22m , 1.22m × 2.44m
Stage height: 40-60cm,50-80cm,60-100cm,70-120cm,80-140cm,90-160cm,etc
Install video link: https://www.youtube.com/watch?v=j_sDxcC-2Mk&t=7s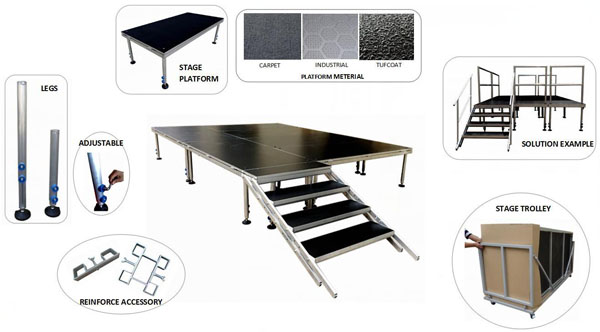 3) Aluminum stage
The aluminum stage is widely used for big events, the advantage is strong loading capacity and adjustable, it can bear 850kg/sq.m. Some client need it for outdoor events, generally also will need the truss roof, so the whole scheme looks very good.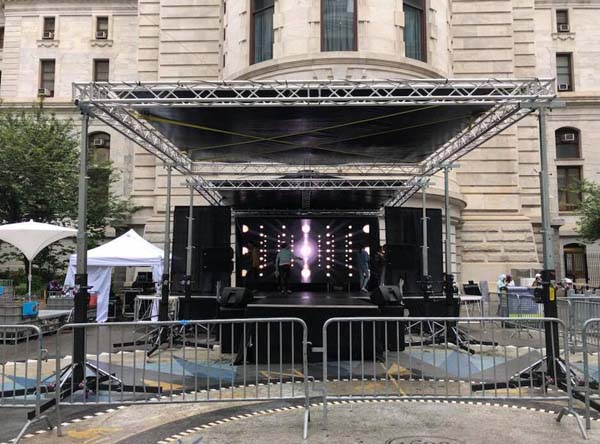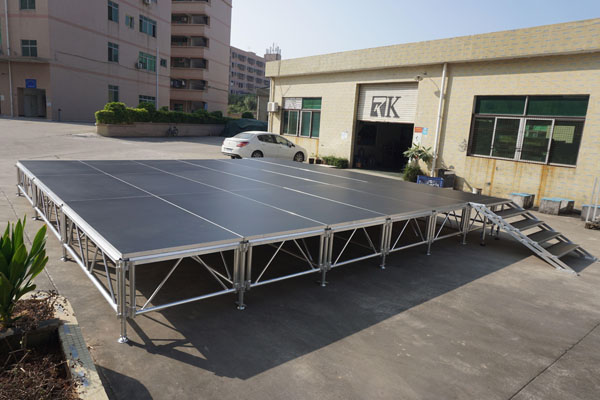 Material: 18mm stage platform + aluminum frame
Platform size:1m × 1m, 1m × 2m, 4ft × 4ft, 4ft × 8ft
Stage height: 0.4-0.6m, 0.6-1.0m, 0.8-1.2m, 1.0-1.5m, etc
To get a quote or if you want to know more about the portable stage , just need to tell us the stage dimensions you want, like the length, width, height , from that we can find the best suitable price and quantity.
Contact: Lemon Lin
Skype: rksales1201
WhatsApp: +86-17875502260
Email: sales1201@raykglobal.com