RK is the leading manufacturer of pipe and drape as well as other event equipment in China. We are specialized in dance floor, pipe and drape, portable Stage, flight case and truss facilities. Our head office is located in Shenzhen, Guangdong Province. RK have three manufacturings bases in Taishan, Dongguan, Foshan respectively with more than 1000 employees. With 14 years of experience in export business, as well as continuously creative new production, RK's products have been up to the international standards.
Pipe and drape is the flexible draping system that you can install anywhere and anytime. Pipe and drape kits can be for wedding backdrops, photography & trade show booths. They are used in Convention and Civic Centers, Places of Worship, Music and Theater Venues, Fairs and Festivals, Wedding Venues, Concert Venues, Shopping Malls, and Professional Sports Arenas. Pipe and drape systems are made up of upright, crossbar, base plate, drapes. Uprights are available from 5 ft to 23 ft high and Crossbars from 2 ft to 12 ft wide. Pipe and drape backdrops can set the stage for any event. Pipe and drape system for backdrops are available in many styles, sizes and colors. A wide range of backdrop are available, chiffon backdrops, velvet backdrops, velour backdrops, LED star curtain backdrops, black out drapes backdrops.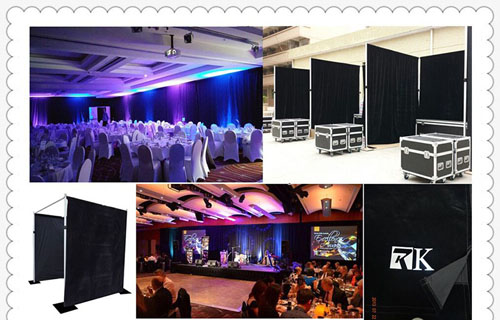 RK produces the easy to use adjustable pipe and drape kit. Perfect to hide walls, divide rooms or create space, decorate events, and more. Our backdrop system is used in hotels, banquet halls and conventions, wedding. Pipe and Drape is a fast and easy way to transform a room,change the look of a room, add color, divide a space into multiple areas or make a room smaller and more intimate.
Our advantage as list:
1. Cheap Price - We manufacture and export dance floor by ourself
2. High Quality - We control each produce process
3. Timely delivery and Various of Design
4. Good Service - Supply Professional service
Please feel free to contact us for more information.
Our website: http://www.pipedrapesystems.com/
Contact person: Rachel Wang
Mob/Whatsapp:+86 13246689494
Email: sales05@pipedrapesystems.com
Skype: sd80012
Facebook: https://www.facebook.com/Rachel.Wang.RK