Motorized Curtain Tracks also known as Electric Curtain Tracks, Remote Control Curtain Tracks. Aluminum electric curtain rail is stage specific rail which is durable and can be equipped with a constant speed motor to pull the curtain. With big power motor, the rail can pull a curtain of 30-200kg with maxi length of 30 meters as fast speed. Curtain hooks is made to be a T shape with bearings on the top injected with plastic materials on the surface. Every single hook can bear weight of 15kg and run smoothly with little noise. It can stop at any place of the rail.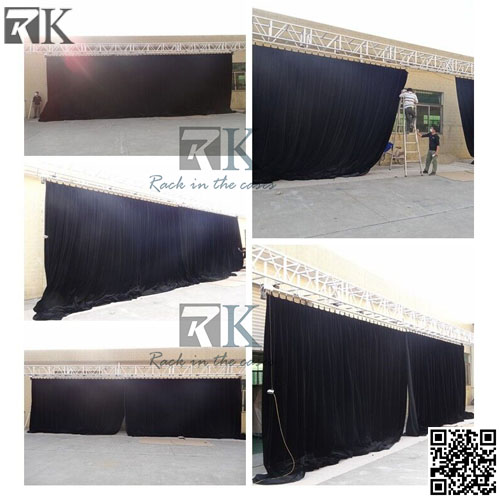 Applications: theaters, multi function hall, meeting rooms, ballroom, hotel etc. We provide comprehensive technical support. A complete set of electric curtain rail will have the following components:(excluding accessories for lifting and installing the rail on the wall). Special aluminum track, track pulley, curtain hooks, uniform curtain motor.
As the curtain, we recommend our luxury velvet for use with motorized curtain. It is 100% black out and fire resistant, the best looking, longest lasting fabric for stage use and is available in many different colors. Stage curtain fabric must be either flame resistant (FR) or inherently flame resistant (IFR) to meet most local and national fire codes. Stage curtains and theatre drapes always used for opera houses, performing arts centre, concert halls, theatre, school multipurpose rooms and churches. RK high quality of motorized stage curtain for performance for conference, motorized theater backdrop.
RK motorized curtain is widely used with truss facility for the stage backdrop. Truss facility with motorized track systems are engineered for show business and large venue applications. Easy to install by following our installation guides. All our tracks are custom to meet your exact measurements. Please provide the height and width of your venue to get a custom motorized curtain track. Also would you prefer side or centre opening? So we can match the motor pull machine for your track.
For more information, please feel free to contact us. Our website: http://www.pipedrapesystems.com/
Contact information as below:
Skype: sd80012
Mob/Whatsapp:+8613246689494
Email: sales05@pipedrapesystems.com
Facebook: https://www.facebook.com/Rachel.Wang.RK