Our company Rack in the cases limited, the manufacturer and supplier of dance floor, located in Shenzhen, China. We provide various of dance floor, like plywood dance floor, PVC plastic dance floor, LED star light dance floor, RGB dance floor. Let me introduce our dance floor to you briefly. Dance floors come in several types suitable for indoor or outdoor spaces, and can be configured in a wide variety of sizes.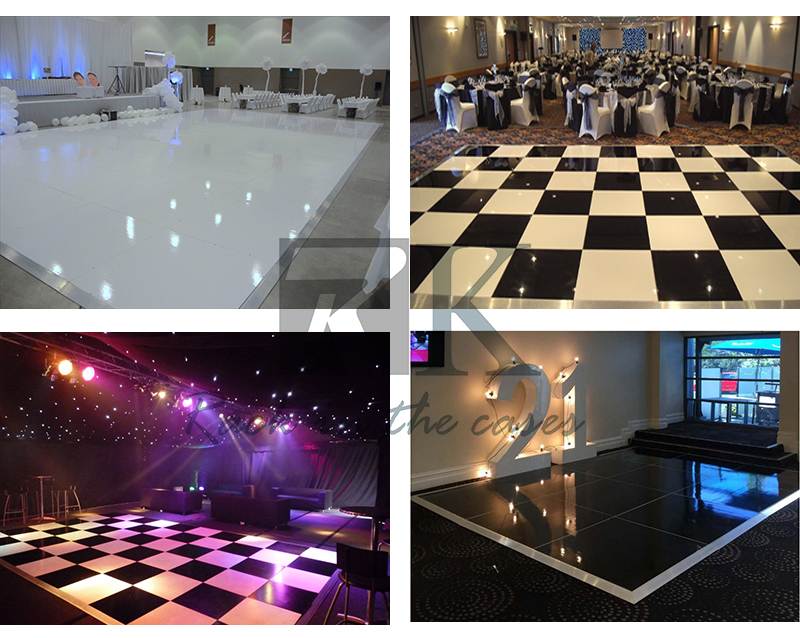 Portable Plywood dance floor
Plywood dance floor is made from hardwood and aluminum frame. The surface is smooth and waterproof. The plywood dance floor won't meet the deformation and it's hardness can reach to national standards. The connection of the dance floor is strong and easy to handle, one person can install the dance floor. Manufactured with high quality plywood and aluminum alloy, provide with 3 years warranty, Rack's dance floor will meet your satisfaction. The thickness flooring panel is 30 mm, sizes are 3ft*3ft,4ft*4ft,1m*1m,you can make any shape at your like. Rack's plywood dance floor edged with high quality aluminum ramp, which is going to protect your dance floor, without damage when trample on the edge. The free packing is carton, we also have special flight case and trolley car to protect your dance floor, it's easy to move around and transit with wheels.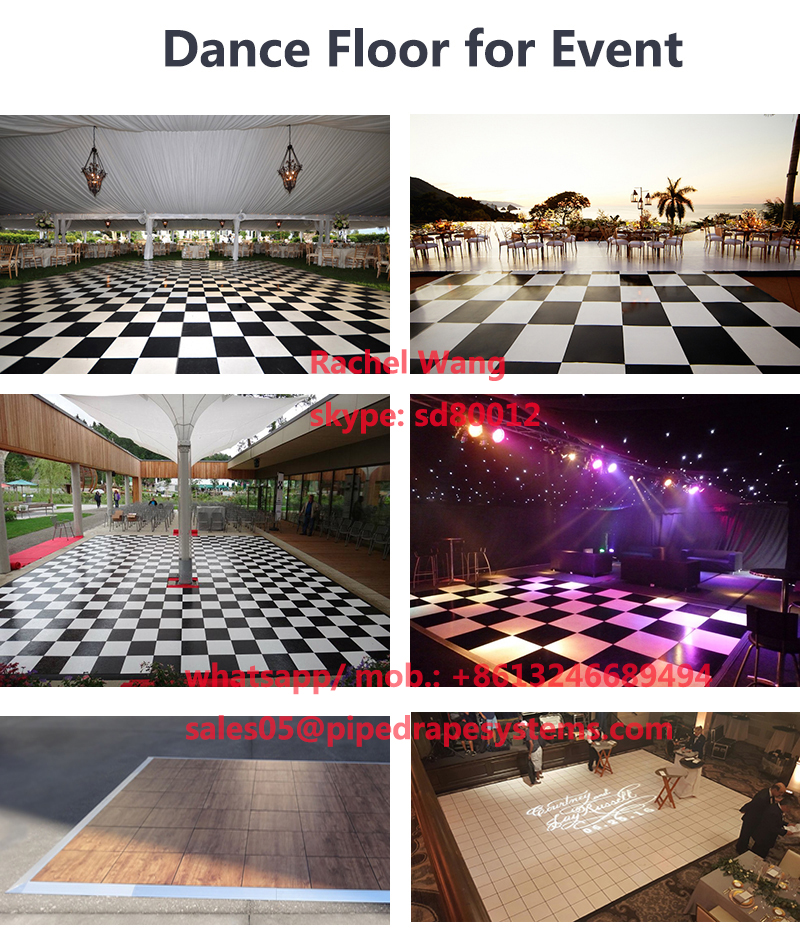 Portable Outside PVC plastic dance floor
PVC is abbreviation of polyvinyl chloride, a special man-made material at the surface of the dance floor. The biggest advantages of the pvc plastic dance floor are waterproof and light weight. It's widely used in outdoor event, even on raining day. It more resistant to dents and scratches, unlike plywood floors, flooring made of PVC is also flame-resistant. The surface of the dance floor is made by pvc material, the back is made by plastic material. In this way, it's durable and water-resistant, PVC flooring is also much easier for do-it-yourself installers. The size of our dance floor is 462x462x25mm,back material is ABS resin, surface material is PVC resin, about 5pcs/square meter. Also the free packing method is by carton, we provide flight case to protect the dance floor at your needs.
For more information, please feel free to contact us.

Contact information as below:
Skype: sd80012
Mob/Whatsapp:+8613246689494
Email:sales05@pipedrapesystems.com