The aluminum stages
are widely used in outside big event, with adjustable legs to meet difference height. And Cardan base at the bottom of the legs for uneven ground. Aluminum brace at four side to make the stage much more steady than others.
The aluminum stage consist of modular hardboard platform, aluminum brace and adjustable aluminum legs. The dimension of the stage platform included 4 ft*4 ft,4 ft*8ft,1 m*1 m,1 m *2 m. The thickness of the hardboard and frame are 18 mm and 65 mm. The aluminum stage is durable and with large bearing, weight capability is about 850 kg per sq meter. We provide four types surface, carpet finish, industrial material, tuffcoat finish, armorplate glass. The industrial material and glass stage are hot sale. Most people choose the industrial material surface for outside performance show, the surface is anti slip and water resistant. The
glass stage
is popular in fashion show or exhibition.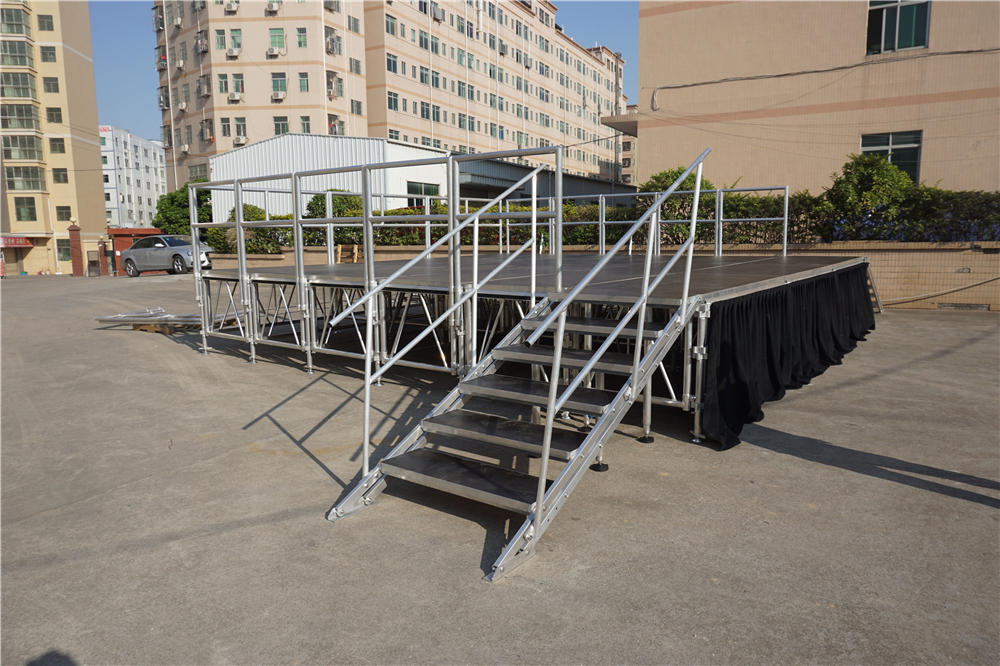 We
provide a wide adjustable height for the aluminum stage
.Common heights range from 30 cm to 220 cm, different level to meet your requirements, included 30~50 cm,40~60 cm,50~80 cm,60~100 cm,70~120 cm,80~140 cm,90~160 cm,100~180 cm,110~200 cm,120~220 cm. The 70~120 cm and 90~160 cm are the most hot sale heights. The adjustable legs and aluminum brace will be matched well to meet the same height. Also the stage's height decide how many steps of the stair. We recommend 2 sets stair, one on each side. If your height has over 1.0 m ,we suggest that guard rail at the three side. The guard rail is 1.0 m high, it's going to protect the performer from falling down. You can add skirting that hides the underlying support structure of the brace and legs, to make the stage more perfect.
Our aluminum stage includes all common sizes, as well as all common heights. Additional, we also can provide special shape and custom size, not just the common size. If you want a
custom aluminum stage
with special design, do not hesitate to contact us.
Please feel free to contact us for more information.
Our website:
http://www.pipedrapesystems.com/
Contact person: Rachel Wang
Mob/Whatsapp:+8613246689494
Email:sales05@pipedrapesystems.com
Skype: sd80012
Facebook:
https://www.facebook.com/Rachel.Wang.RK