Stage is widely used in events, no matter for concert,weddings,parties and so on. Besides normal industrial finished stage, we can also do glass stage. Today will introduce our 3 styles glass stage products - Glass Smart Stage, Glass Beyond Stage, Glass Aluminum stage.
Here are some detailed information about the Aluminum stage.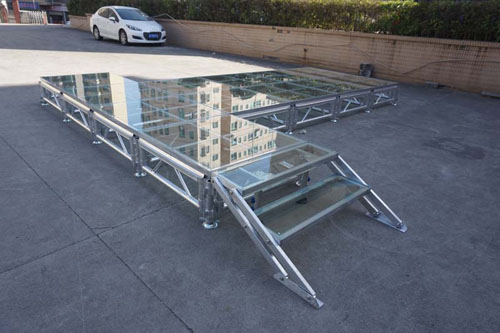 Stage style
Glass thickness
Thickness including frame
Unit panel size
Height
Adjustable or not
Aluminum Stage
18mm
60mm

1mx1m,
1mx2m,
3ftx3ft,
4ftx4ft,
4ftx8ft

0.4m~0.5m~0.6m
0.6m~0.8m~1.0m
0.8m~1.0m~1.2m
1.0m~1.3m~1.5m
1.5m~1.8m~2.0m

Yes
1. All the glass thickness of the stage is the same 18mm,and the thickness including aluminum frame is different.
2. The height available sizes are a little different. The smart stage is fixed height, while the beyond stage and aluminum stage are adjustable.
3. The installation ways are different. Here are the install video of the 3 style stage:

Aluminum stage install video:https://youtu.be/ITwmqh4uPoQ
Though the thickness are not the same, they are all of good quality.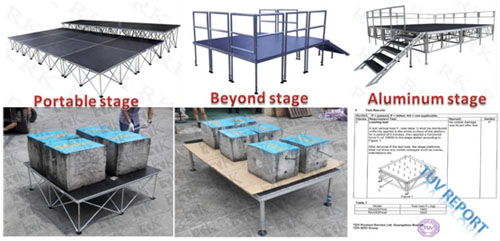 And for the package,as it will take long time to delivery, so we suggest the package had better be the flight cases package. It will help to protect the stage being broken during shipping.